Arunveda Gasoleen Digestion Booster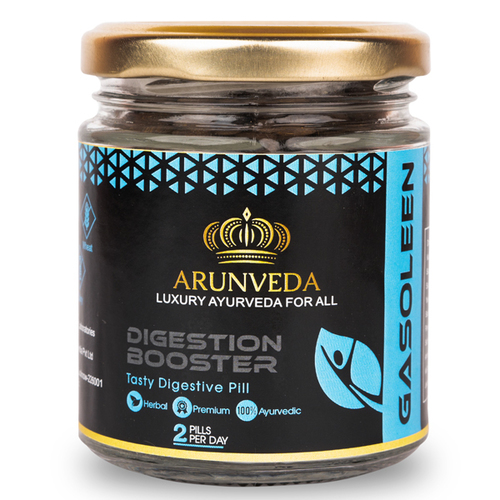 Arunveda Gasoleen Digestion Booster
Product Description
Arunveda Gasoleen Digestion Booster pills contain carefully crafted ingredients that have been fine-tuned over years of training, research, and experience. Each capsule contains herbs that aid digestion and have been known to humankind for thousands of years.Buy ayurvedic digestive boosters and experience the rich Ayurvedic heritage. We understand that unhealthy food and physical inactivity are leading us towards obesity and gastric problems, so we bring you the perfect ayurvedic remedy for these conditions.This remedy is made from ferula asafoetida (shudhheeng), himalayan black salt (kala namak) and hordeum vulgare (yavak char), coriandrum sativum (dhaniya), piper nigrum (kali mirch), zingiber officinale (saunth)and more, which improves digestion and prevent stomach bloating and constipation.
Our company is supplying an Arunveda Gasoleen Digestion Booster that is made with carefully selected ingredients that have been refined through years of research, experience, and training. It primarily contains digestive herbs that have been used by the customers for years. The users can purchase this ayurvedic digestive booster and immerse themselves in Ayurveda's illustrious history. We recognize that unhealthy physical inactivity and eating habits contribute to gastric and obesity problems. Therefore, we bring the customers the ideal ayurvedic remedy for digestive issues in the form of Arunveda Gasoleen Digestion Booster. It contains shudhheeng, kala namak, yavak char, dhaniya, kali mirch, saunth, and other ingredients that aid in digestion. This digestive booster also prevents constipation and stomach bloating.
Frequently Asked Questions:
1.How can I raise my digestive system?
Ans. The 11 quality methods to improve your digestion clearly
consume complete foods. Get masses of fiber. It is commonplace know-how that fiber is beneficial for exact digestion.
Add healthful fats to your food regimen.
Stay hydrated.
Manage your stress.
Consume mindfully.
Chew your food.
Get moving.
2. How do you remedy bad digestion?
Ans. Right here are some approaches that way of life alternatives can improve your digestive health.
Devour fruits and vegetables.
Pick out entire grains and nuts.
Restriction of red meats.
Restrict added sugars.
Cook dinner more healthily.
Consume foods with probiotics.
Stay hydrated.
Exercise frequently.
3.What is the high-quality complement for digestion?
Ans. The 8 first-class dietary supplements to help with bloat and digestive desires
Probiotics.
Prebiotics.
Digestive enzymes.
L-glutamine.
Slippery elm.
Ginger root.
Vitamin D.
Trade Information
Cash Advance (CA)

200 Per Month